Vanuatu offshore car registration
Register your vehicle on Vanuatu
Vanuatu have discontinued Foreign Vehicle Registrations. They have also done the same thing with their foreign and domestic Yacht Registrations.
Far away from the over regulated Continent of Europe, is a small island nation in the South Pacific Ocean called Vanuatu. This Independent Republic was called New Hebrides when it was an Anglo-French Condominium, then changed its name when independence was achieved in 1980. Just North of New Zealand and East of Queensland, Australia, Vanuatu is a tropical nation with a predominantly Melanesian population of around 200,000, which is spread through the volcanic chain of islands fringed by coral reefs and rich blue ocean. So how is this idyllic, untouched paradise going to help you? Already an established provider of Tax-free International Companies, Vanuatu also offers European clients the ability to register their vehicle under the local Vehicle Registry.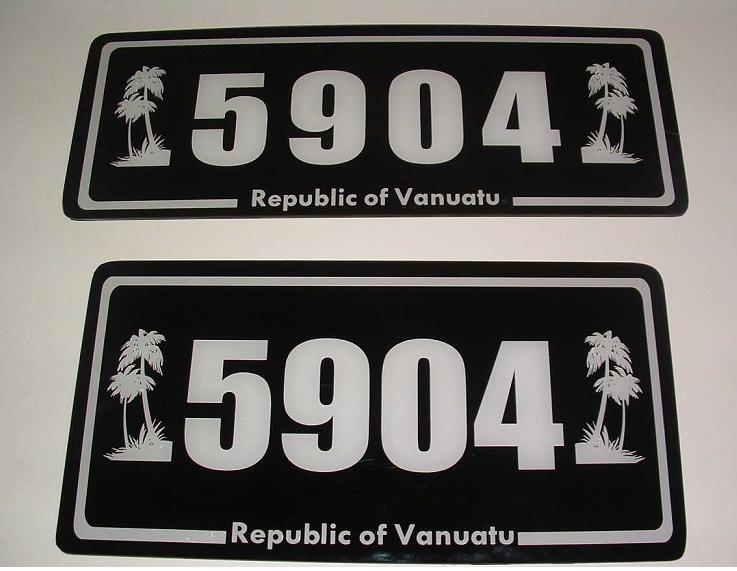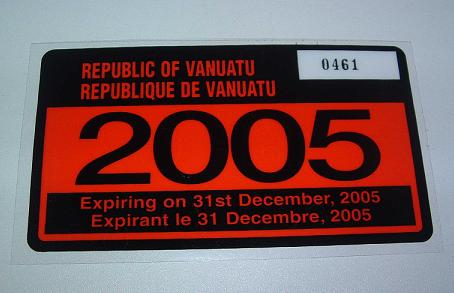 Vanuatu Vehicle Registration is possible for most types of passenger vehicles, including small trucks and motorcycles. Requirements are very simple and vehicles may be registered under your personal name, or the name of a Company. The process is taken care of by Slogold and the following list is all that is required from you: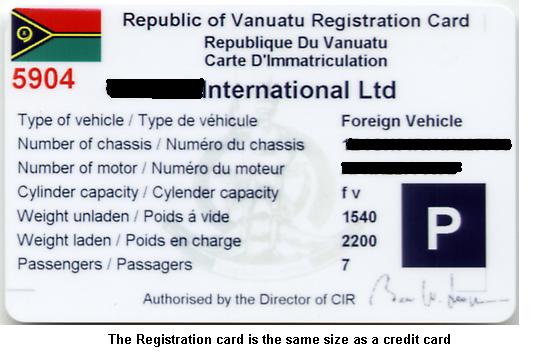 Completed Application Form
Copy of original invoice for the vehicle
Copy of original registration certificate
Road worthiness certificate or letter from mechanic
Color photo of vehicle
Color photo of owner/ company director
Copy of owner/company director's drivers license
Copy of owner/company director's passport
Copy of company documents
Once the registration is complete, you will receive bycourier, a Registration Book, a Registration windowlabel, and two Vanuatu License Plates. The plates areunique and will be the talk of many who spot them.
In most European Jurisdictions, you will need to crossan international Boarder at least 4 times per year tocomply with regulations pertaining to foreignregistered vehicles.
Vanuatu vehicles are registered from year to year, so it is best to register a Vehicle in January, as the window label that is provided will only cover the year in which the vehicle is registered. Annual fees are similar to what you would expect to pay for a locally registered vehicle, but there are no Road User Charges, VAT or any other Taxes payable.
Although Vanuatu registration plates are restricted to numbers only, you can request personalized plates for a small additional cost. As the Vanuatu registry is very small with only tens of thousands of vehicles having been registered there, you may obtain a registration plate that would be popular or extremely expensive in your country. You may also have special wording placed above the number to meet your specific needs or to introduce your special number.
How to order?
Click here for details how to register your car offshore